My Selective Breeding Projects
Black Pearls / Sandy Shorthairs / SB Links
---
Near the start of 2022 I began work on my first selective breed project. The result was an all-black BWS & Oshie mix with big puffy tails, straight bodies, and an angry personality. I nicknamed them Black Pearls.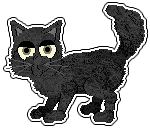 The end result of my first project.
Black Pearls Breed Requirements:
Personality: BWS
Head: BWS
Body: BWS
Tail: Oshie
Coat: Black
Markings: none
Everything else: any
During this project I did not concern myself with inbreeding, I simply wanted to get my end result. After I was finished, however, I realized the plate of spaghetti representing the family tree bothered me. I wanted to see if I could do a NIB version of my breed, with some minor changes.
This new project I nicknamed Marbled Pearls. These cats carried the same body shape & personality as Black Pearls, but instead had Oshie textured coats of any colour. I started fresh with 4 brand new AC kittens and went from there. In August I locked down my first kitten who would breed true. By September I had another kitten ready. The two I nicknamed Parfait and Plasma. I also settled on the breed name Sandy Shorthairs.


Parfait, the first Sandy Shorthair.
Sandy Shorthairs Breed Requirements:
Personality: BWS
Head: BWS
Body: BWS
Tail: Oshie
Coat: Oshie texture, any colour
Markings: any
Everything else: any
As of right now, I only have a single NIB breeding pair. My current goal is to breed new colour mutations, and I'm debating starting a new line that is not NIB to save on time and sanity.
---
Looking to start a selective breed project? Here's some useful links:
Rogue Kennels Selective Breed Page
CRUSHING genetics guide
Oasis Master SB List
GenePoolz Tool (essential!)
Petz 4 Hotkeys (under downloads)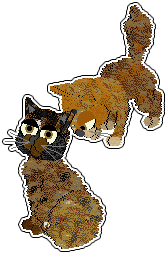 ---
TOP