about me / contact info / rules / credits / old themes
---
About / Victorian Cyborg
Prefix: VC
Name: VC
Gender: Female, she/her
Birthdate: February 27th
Location: Canada
Preferred Petz Version: 4
Favourite OG Breed: B+W Shorthair
My Whiskerwick Wishlist
Hi! I'm VC. I've been a petz fan since Catz II when I played as a kid on my friend's computer, but I didn't start interacting with the community until I was much older. I started CYBORG back in my college days (2009-2010ish) and it has bounced from several different web hosts since then. My original site & game files have been lost to time, but some of my petz from when I switched to Petz 4 did survive the years.
In 2021 I returned to the PC after a several years hiatus, with the occasional visit to RKC to see what was up in between. Petz is a nostalgic comfort for me, and I find myself drawn to this charming little virtual pet sim over and over again in my life. When I was a kid I was too shy to do much beyond play with my petz, now I am having lots of fun making hexes and starting breeding projects. Coding my petz site has also been a pleasant distraction from chores.
B+W shorthairs are my favourite in-game breed of cat. As for dogs, I'm fond of husky breeds. While PF Magic never made a husky file, thankfully the wonderful PC has plenty of custom breeds to choose from! :)
Outside of Petz, I play a few other games. I'm a huge Monster Hunter nerd and have been hunting since Freedom 2. I help run a Rise hunting group that gets together every other Monday. Recently, I started playing Stories 2. My husband and I are big into Final Fantasy 14 and spend more time than is probably healthy in Eorzea. I am a Dancer main.
When I am not gaming, I am a homemaker with a part-time job, so my time is spent between house chores and work. Apples are my favourite food and I love the colours purple & blue. I suffer from chronic illness which sometimes leaves me debilitated. If I don't respond right away I may be having a flare-up, but if it has been a bit don't be shy about sending me another message.
Below is a link to my personal portal page where my other fansites and shrines can be found.
---
email: victoriancyborg@hotmail.com
Discord: SpookyWife#8241 (Petzcord members only please ♥)
RKC: Victorian Cyborg
Whiskerwick: Victorian Cyborg
PUGS: victoriancyborg
TFM: VictorianCyborg

---
Adoption Rules
I have only one rule for any bred petz I sell or adopt out:
Please do not resell or auction the pet!
Otherwise do as you like. Even using my prefix (VC) is optional! If you no longer want the pet, feel free to MPA, trade, or delete. No need to return to me! My hexes have special rules, these will be noted in the profile and can be found on my archive.
---
Credits
Fonts - Google Fonts
About Me Avatar - Picrew
Petz Crew Display - Airtable
Cursor - Cursors-4u
Favicon - pixel-soup

---
Old Themes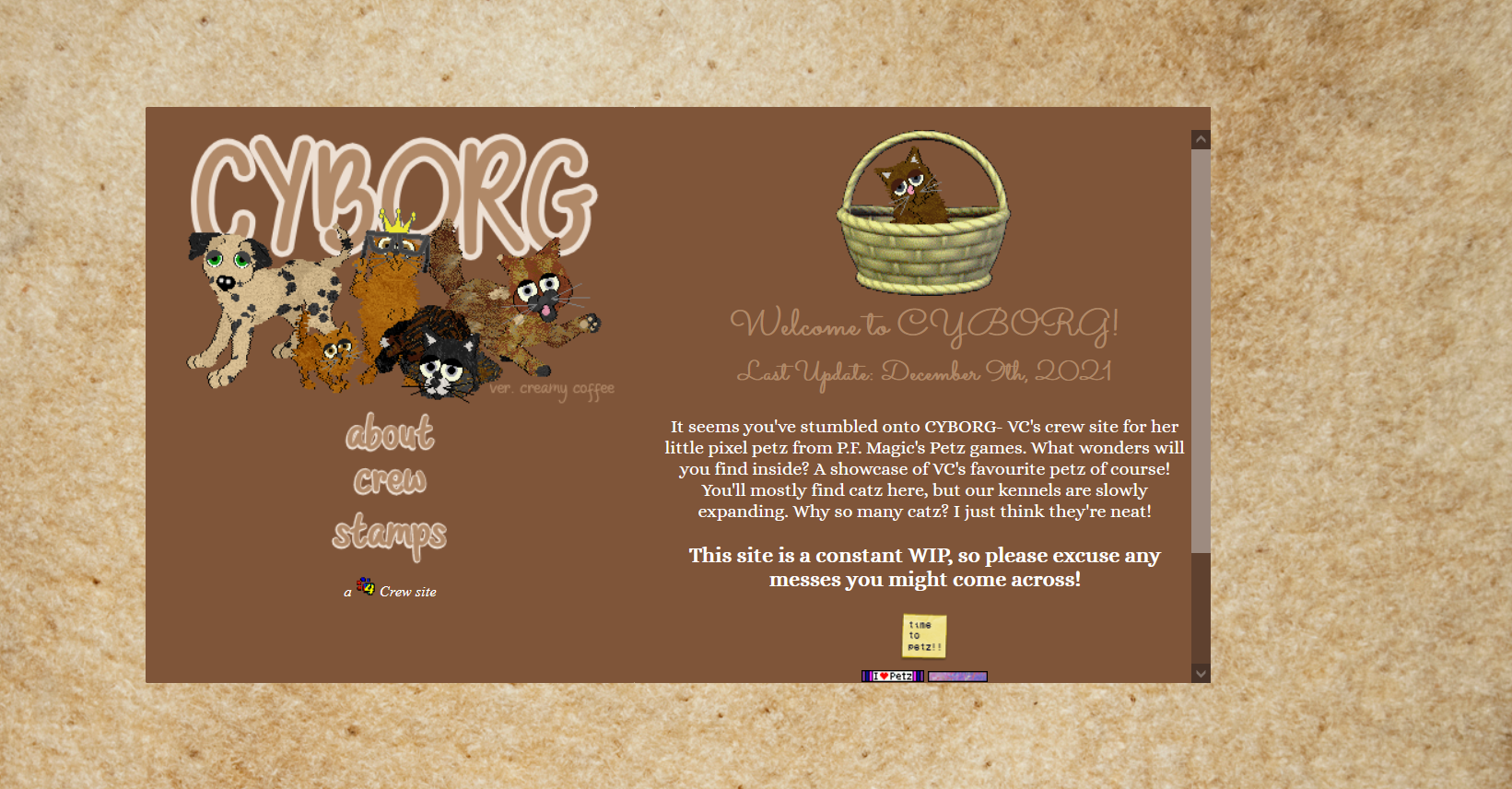 Creamy Coffee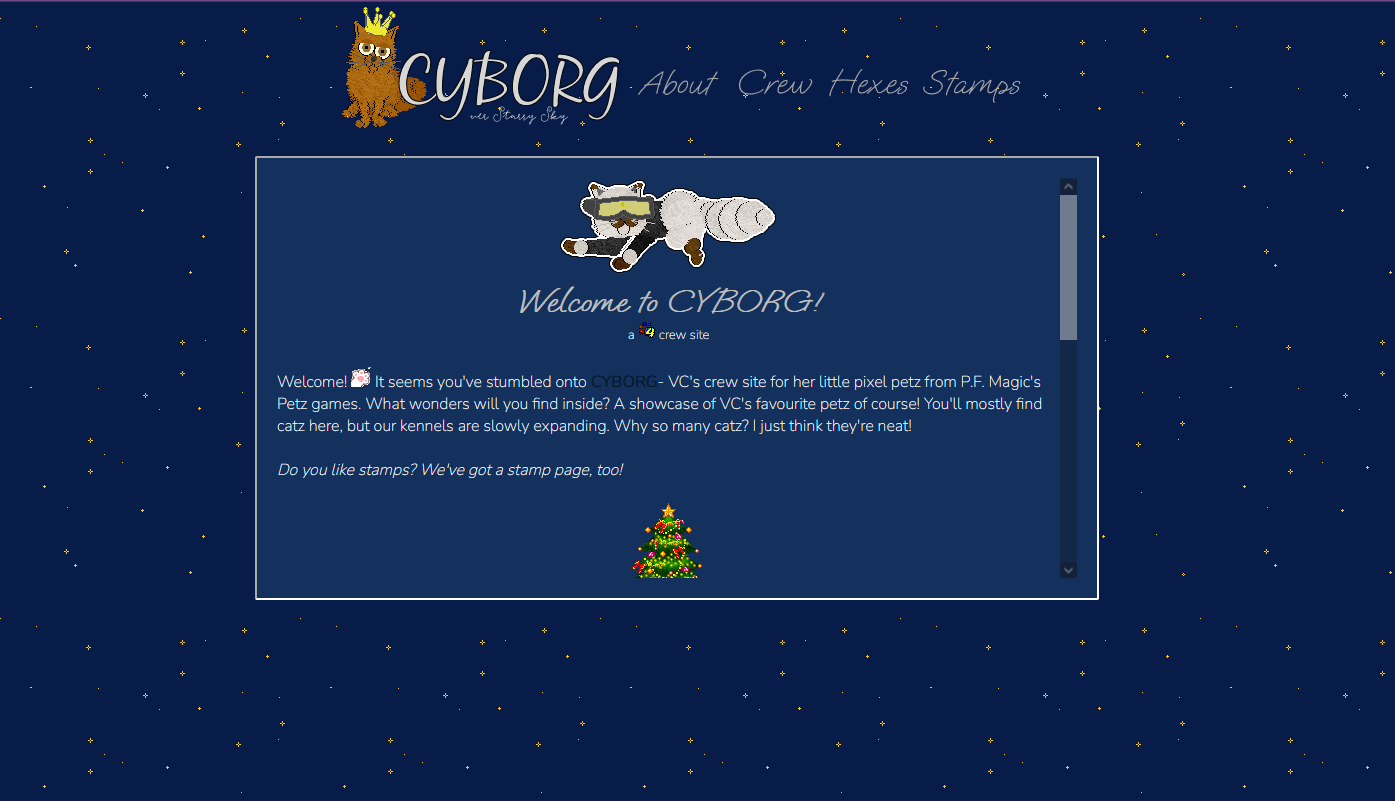 Starry Skies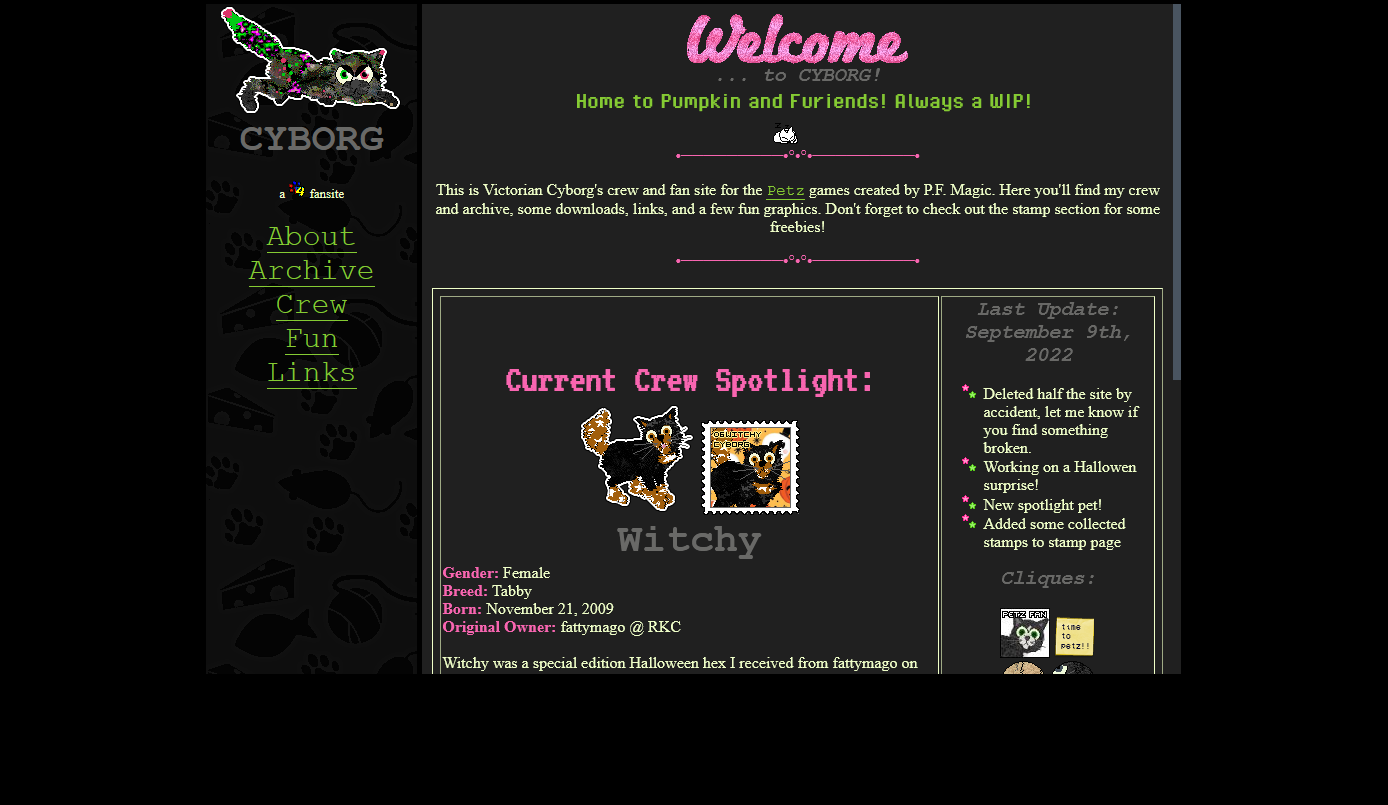 CYBORG 1.0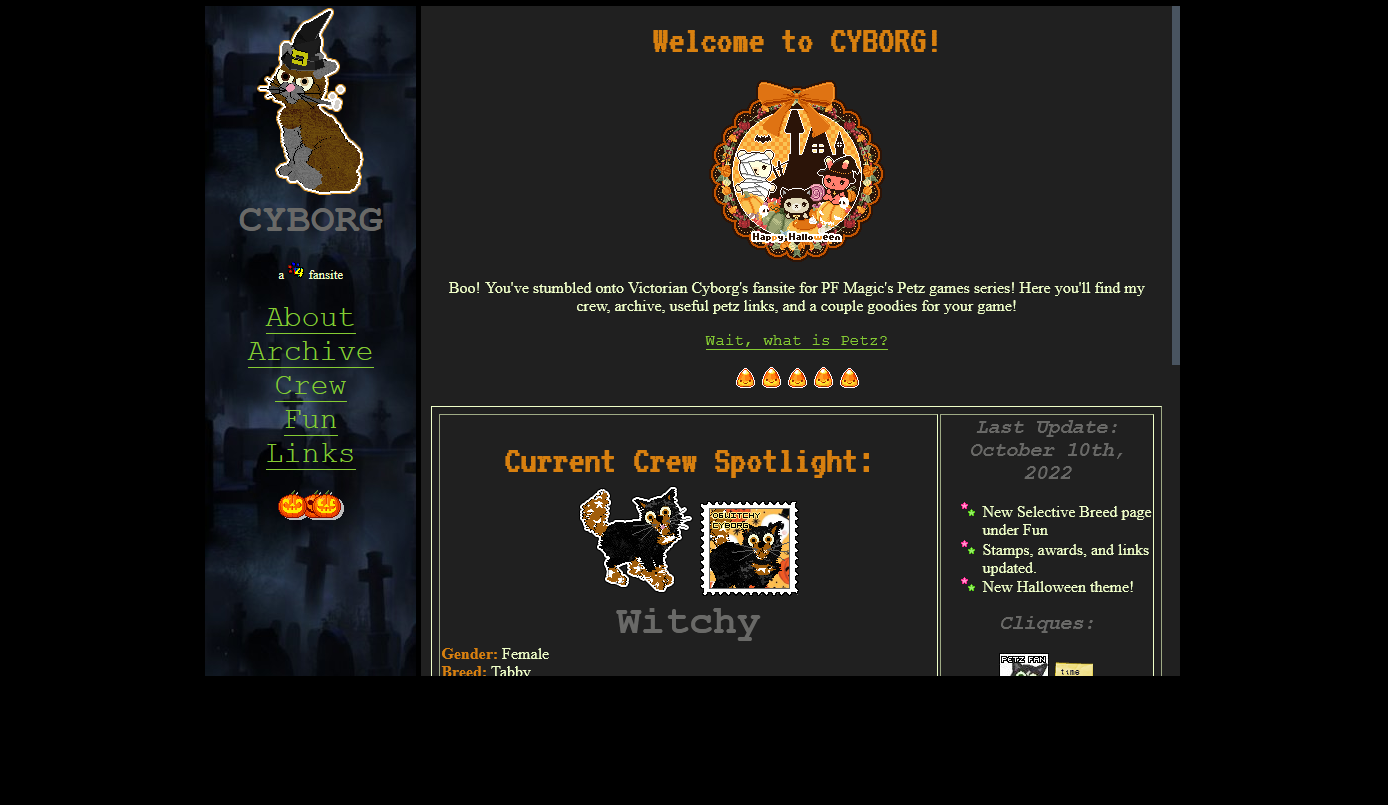 CYBORG 1.0 - Halloween edition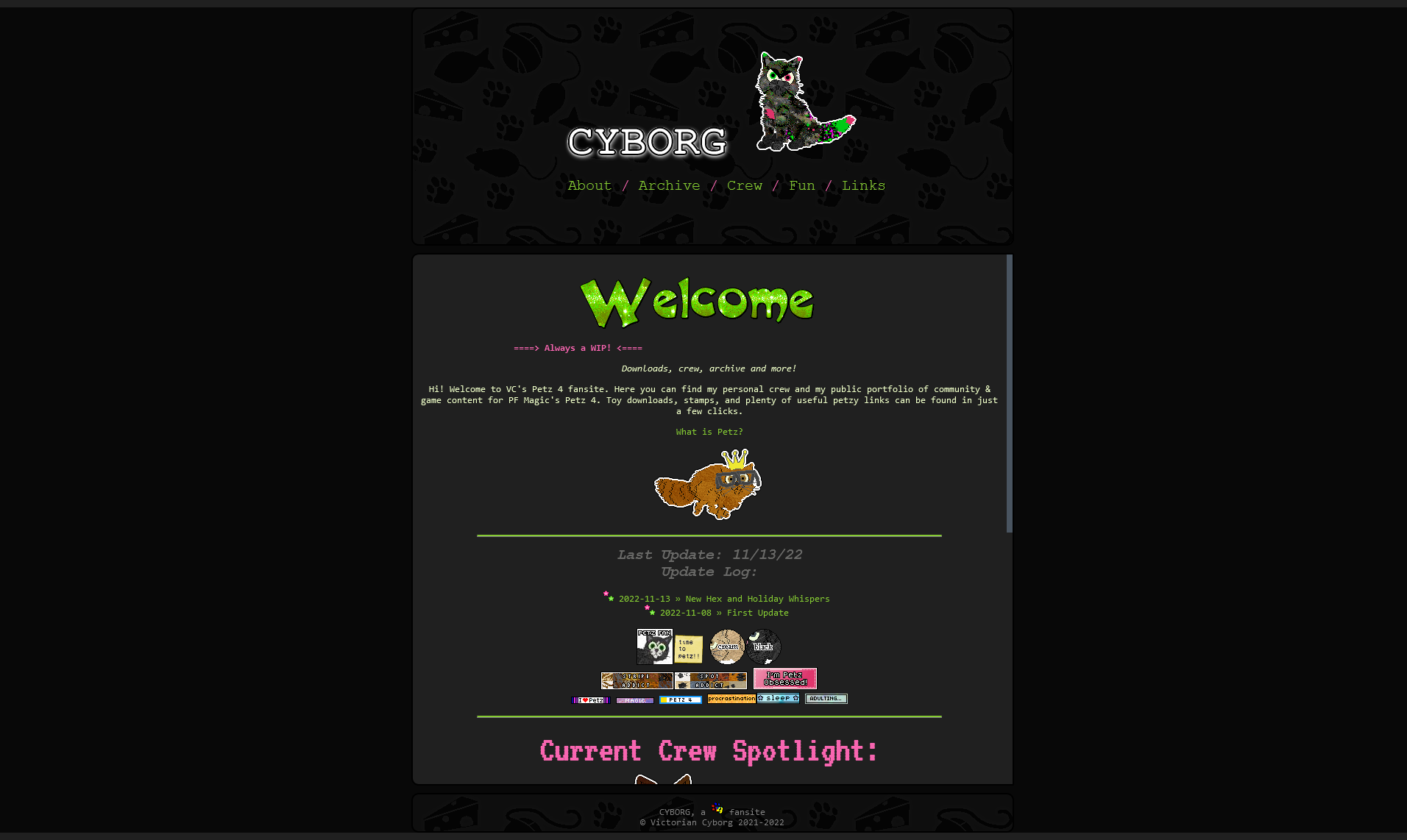 CYBORG 2.0
---
Top